Armed Forces Day, Pete Ogburn's Memorial Bench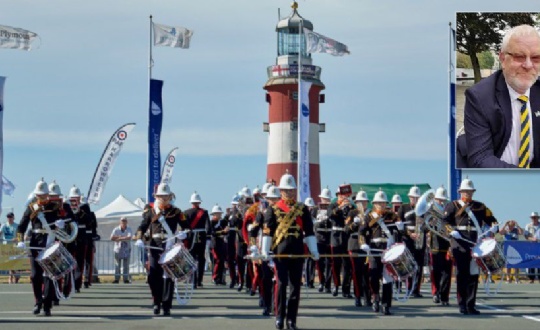 This Armed Forces Day, Pete Ogburn's memorial bench will be unveiled at 3.30pm. The bench will be located near the flagpole above the Belvedere (wedding cake) almost opposite Elliott Terrace.
Without Pete, the national network of Service & Veterans' children would not exist and be the success it is today.
Pete's Father served in the Royal Navy from being a boy sailor and his Mother had been called up during the War. Pete therefore had a real empathy with the children he supported and an enthusiasm and determination to let their voices be heard. Pete served in the Royal Navy for twenty-two years, including the Falklands Conflict and disaster relief in Sierra Leone.
Pete's involvement with MKC Heroes came when he accompanied his wife, Heather, a Senior Education Officer in Plymouth (with responsibility for military families), to a meeting of 40 local school children. They met to discuss their lives, what military service was like for children, and what would help them. During the discussion, one child said; "Why can't we have one of the flags Sir, like the old men in blazers have? We could get together and have a parade and be a club?" Others joined in, saying they could set up clubs in every school in the United Kingdom and beyond, so that everywhere they went they would have a friend. Pete took up the challenge and devised a plan to help her enable schools to create clubs that the children named Her Majesty's Schools Heroes (HMS Heroes).
During a chance meeting on Plymouth Armed Forced day, Pete met up with Roger Garratt, who immediately saw that the Royal British Legion could help. HMS Heroes became the Military Kids Club Heroes (MKCH). Pete liked to give his wife all the credit for MKC Heroes, but he was the real driving force; accessing funding for grants; being the treasurer, secretary, webmaster; competition designer and deliverer - organiser of anything and everything MKCH and so much more.
Mrs J Lloyd
Teacher of Maths