Catering Facilities
Café Coombe Dean Catering Facilities
The catering facilities have been scored a 5-Star Rating from our Local Environmental Health Team. 
We offer a daily menu of well-balanced, highly nutritious, healthy meals and snacks and we are also able to provide catering support and buffets for all types of occasions, such as Birthday Buffets, Celebratory Events, Food for Sporting Events and in house Speciality Nights too.
Café Coombe Dean and the catering facilities here are all in-house, so we are able to be flexible as to what we can select and provide to meet the various needs of our community.
This gives us the freedom to source & buy ingredients and products that are more sustainable for the local and wider community As a Community Focused School we believe giving our business to the community is our first priority, so we procure and source our produce as locally as we can.
We use biodegradable food containers, including knives and forks to assist with becoming greener as we recycle cans, plastics oils and cardboard within the kitchen. We also only use rapeseed oil for cooking.
'Allergies'
'Natasha's Law' (or the Food Information (Amendment) (England) Regulations 2019), which comes into force in October 2021, will make it a legal requirement for all food retailers (including ourselves) and operators to display full ingredient and allergen labelling information on every food item they sell 'pre-packed for direct sale'
At Café Coombe Dean all allergens are recorded on our packaged food items or is contained in an Allergens File kept at the back of the canteen behind the main servery within a Green File. If in Doubt about any product then please simply ask any staff members to assist you.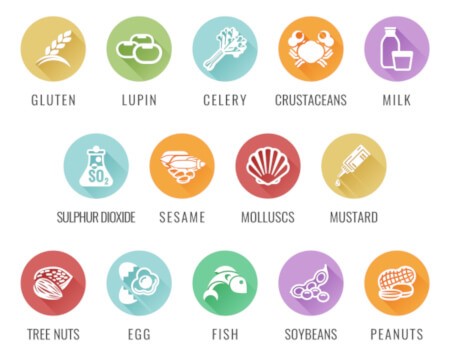 REMEMBER - If any child suffers from any form of food allergy, please let us know so we may assist them.
Main Suppliers used at Café Coombe Dean:
Vegetables and free range eggs - Tamar Fruiterers, Hatt
Meat & Poultry – Allison's Butchers, Elburton, Plymstock, Plymouth

Dried / Frozen Items - Bidfood (Lee Mill), RD Johns, (Newton Abbott) and M J Baker (Newton Abbott)

Pasta King Pasta - Newton Abbot

Fresh Fish – S& J Fisheries, Lee Mill
Please see the Weekly Menu attached below, for what is available.
If you have any queries, especially concerns about allergens, please contact our Catering Manager, Simon Lovell.
Applying for Free School Meals
Devon County Council administers free school meals applications for Coombe Dean School. If you feel you could be eligible for free school meals, you can apply through the Devon Citizens Portal. This is the quickest and easiest way to apply and will result in you getting an instant decision.
Alternatively, call the Education Helpline on 0345 155 1019.
For further information about free school meals, please follow the link below:
https://www.devon.gov.uk/educationandfamilies/school-information/school-meals