Wider Participation and Work Experience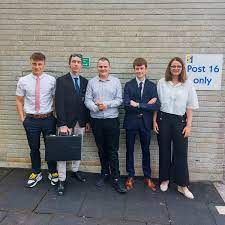 Wider Participation and Volunteering Programme
All year 12 students are expected to take part in at least one regular activity that supports the wider community. This is because:
we value our community and we want our post 16 students to have a positive role in it;
we want to provide every opportunity we can to help students develop as people and explore what the future could offer.
The programme is designed to develop personal skills outside of your lessons and reap the benefits of being part of a school community. It gives students a chance to develop a range of wider skills that may not be so easily demonstrated in lessons.
It can also be used as an opportunity to try out potential careers and future opportunities, helping you to make decisions about your next steps.
Opportunities fall into two categories:
Academic: these activities are more aligned to subject areas and are meant to enhance the skills linked to your learning and allow you to stretch those skills in new ways e.g. supporting lower school lessons, academic mentoring of individual students, EPQ.
Extra: these activities are more often outside of the classroom environment and tend to incorporate wider or complementary skills e.g. volunteering in a local school, shop or community project, running a club or sporting activity, supporting student wellbeing or mental health projects.
Students choose and organise their own activities and we keep track of these via regular reviews, which also help us to gather information for references when it comes to applying for apprenticeships and degree courses. Students who complete ten sessions of volunteering gain entry into a prize draw.
We also run an annual TEFL qualification, partially funded by the school, allowing students to assist with the teaching of English as an additional language, benefitting our students with a year working abroad.
Work Experience
There is a national expectation that all students in Post 16 provision engage with a meaningful programme of work-related learning opportunities. At Coombe Dean School we are privileged to have the support of our own staff and those across the local business communities to allow our students to experience the world of work and learn about the range of possibilities the future has to offer.
In Year 12, students are expected to complete a five day Work Experience placement. For most students this will take place in the summer term, alongside our year 10 cohort, however, should you find a fantastic opportunity that is available at another time, we are happy to support this if we can.
Students contact employers to arrange this experience themselves, using our guidance and large library of established placement opportunities. This is a valuable part of building the skills and confidence to reach out to future opportunities once you leave school.