University Lectures for A Level Historians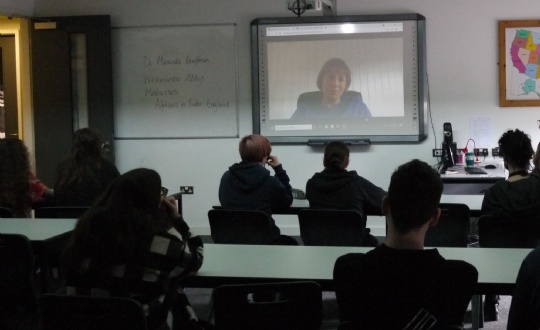 Year 12 and 13 History students attended a Westminster Abbey masterclass this week, led by Dr Miranda Kaufmann.
Dr Miranda Kauffman is the author of the critically acclaimed, Wolfson History Prize and Nayef Al-Rodhan Prize shortlisted, book Black Tudors: The Untold Story.
This fantastic opportunity allowed our History students to experience a university style lecture from an esteemed historian. The lecture complimented part of our A level course: The Tudors, 1485-1603 and allowed students to expand their contextual knowledge of this topic. Following the lecture, our students took part in a nationwide q&a session to be able to delve even deeper into this fascinating topic.
Thank you to Dr Miranda Kauffman and Westminster Abbey for extending this opportunity to Coombe Dean students.
"It was such a great opportunity to learn about such an important topic, and really opened my eyes to how History is always evolving, it's not set in stone. Dr Kauffman's research has shown us that there are still stories of the past to be discovered. I'm really grateful to have been part of her journey to get these important stories of Black Tudors out to everyone. They were here and they should be studied'. Year 12 student
"It was a very enjoyable and engaging experience. I really valued learning about a topic that isn't covered in detail in our curriculum, but that sits alongside it. We really appreciate that Dr Miranda Kauffman took the time to create a lecture for us, she was clearly so passionate about passing on her research on Black Tudors. It has really helped to prepare us for university lecture, too'. Year 13 student