Coombe Dean Music Awards 2022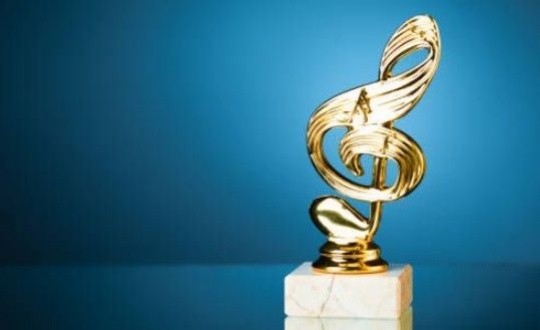 After three years off the stage, what a delight it was to be able to host the Music Awards Evenings this year and welcome a live audience back in!
Thanks to all the hard work from students and staff within the Music Department, the two evenings were a huge success. They consisted of numerous outstanding performances from our thirteen different extra curricular groups, and Post-16 soloists, as well as a whole host of awards and trophies.
The varied sets included more traditional offerings from chamber and string group alongside several pop and rock offerings. From folk to soul and from solos to three part harmonies; there was something for every listener.
Seasoned groups such as the senior vocal ensemble 'Resonance', and the Soul Band (now in its seventeenth year) were complimented by much newer groups like Horn Ensemble and the Key Stage 3 Choir. All excelled.
The performances, as ever, were fantastic. With some students being brand new to the stage, it was wonderful to watch them flourish and all performers showcased how talented, committed, and enthusiastic they are. A huge well done to you all!
Congratulations to all of our award winners this year. It was fantastic to have so many. A list of our main award winners can be found below, and an extra special well done to them.
Thank you also to staff members who supported the Music Awards this year, with a special mention to Mr Koehler-Lewis for his fantastic compering. As ever, we are so proud of you all.
The Music Team
Mr N Kay, Mr T Crago, Miss C Holland
Year 8 Special Awards - Bella E, Ana P
Musician of the year- Pola F
Year 9 Breakthrough Musician - Awe P-W
Most commited - Robyn J
Musician of the Year - Lila H
Year 10 Breakthrough - Kacper K
Most committed - Maddie G
Musician of the Year - Nathan L
Year 11 Breakthrough - Jack F
Most committed - Jack C
Musician of the Year - Olivia P
Key Stage 5 Breakthrough - Josh R
Most committed - Ollie J
Musician of the Year - Ella J
Composition of the Year - Eleanor L
Undisputed Musician of the year - Lila H
Enjoy this video of our fantastic Senior Vocal Group with their performance of 'Shivers' by Ed Sheeran, arranged by N Kay:
Please enter some content for your news story here.