Anti-Bullying Training Day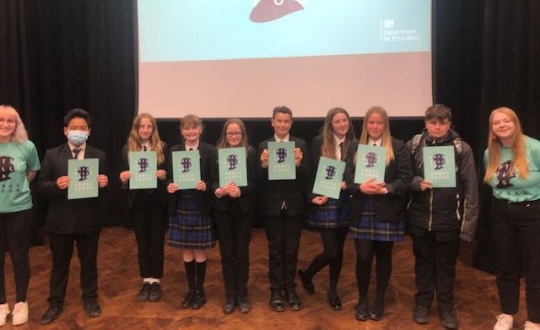 Coombedean are proud to have partnered with The Diana Award and their Anti-Bullying Initiatives and Training.
In May, a group of students volunteered to attend the first training to explore what it means to become an Anti-Bullying Ambassador and explore methods of how they could raise awareness and launch a whole-school anti-bullying campaign.
The day was informative, and our students engaged in lots of activities as well as eloquently sharing their thoughts and ideas with the audience which included attendees from 10 other schools in the region.
Next steps will be for the group to meet and discuss which ideas they will take forward in school such as: Creating a Student Friendly version of the school behaviour policy, displaying resources and preparing future campaigns to address things like Racism, Online Safety, Mental Health, Diversity and Inclusion etc
WHAT IS ANTI-BULLYING AMBASSADOR TRAINING?
The training day equips young people and staff members with knowledge of what bullying is and how to tackle it through engaging activities, at the end of which students will make an action plan of how to approach reducing bullying in their schools and will become Anti-Bullying Ambassadors. This is all delivered through The Diana Award's renowned peer-led approach
The Diana Award's Anti-Bullying work is supported by HRH The Duke of Cambridge and engages young people, parents, and teachers to change the attitudes, behaviour and culture of bullying by building skills and confidence to address different situations, both online and offline. The Diana Award is a youth charity founded in memory of Diana, Princess of Wales, and her belief that young people have the power to change the world.