Netball U14 Pre Season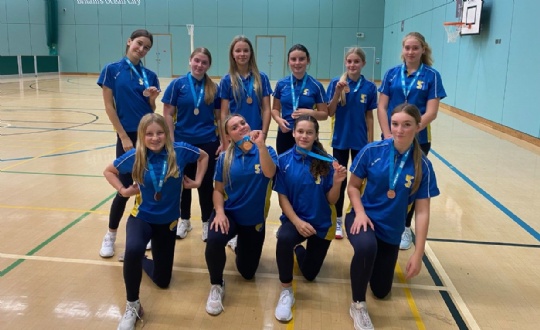 Andddd ... we are back playing netball after a long season off. We took a strong team to the Life Centre for the Under 14 pre-season netball tournament. Despite the fact we have only had one training session this year, the girls were more ready than ever and raring to go.
We played 5 games winning the first 4 against Eggbuckland, Plympton Academy, Notre Dame and PHSG. The team were on fire and in high spirits after winning against one of the strongest netball team in Plymouth. It was all down to the last game against DHSG and despite the team's outstanding efforts we lost the match.
I was impressed with the team's performance in all matches and how skilful they were on the court and how nice the flow of the games had been. We had a great opportunity to succeed and go through to the next round and represent Plymouth, however due to the goal difference we just missed out on that. We left with our heads high after playing amazing netball and took home the bronze: well done team!
Special mention to the players- Bo W, Poppy C, Scarlett S, Asena B, Pola F, Roma S-H, Heidi B, Aimee N, Caitlin C-D, Taylor M and Isabel J
Miss Brown