PSSP Secondary & Special Schools Football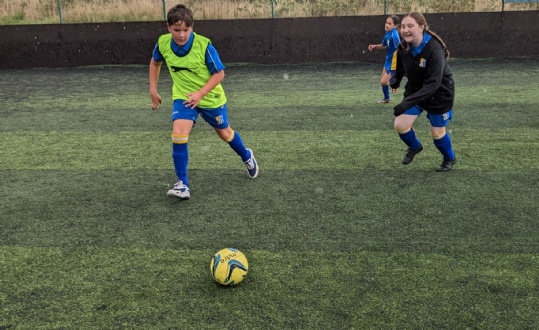 Coombe Dean A Team Winners!
Wednesday 28th September 2022 – Today was our first in the series of PSSP Secondary and Special Schools Football at Goals. We had 3 teams with us this morning representing Coombe Dean and Tor Bridge High. It was fantastic to get Tor Bridge along as new attendees – hopefully they will be keen to sign up again next half term. Some of the students from both schools had never played before but this event is not focused on winning. At these events, we take the opportunity to celebrate the School Games values of Self Belief, Determination and Team Work: more than anything we want it to be fun and for everyone to enjoy playing. Throughout the morning, all of the teams got to play each other twice and points were awarded depending on the result: we award 5 points for a win/3 points for a draw and 1 point for a loss. At the end of the morning, all of the results are tallied and the winners announced. Everyone who takes part today receives a certificate and we celebrate each other's teamwork and sportsmanship. Congratulations to Coombe Dean 'A' team who were our overall winners today. Well done to everyone who took part, I really hope that you enjoyed it and would be keen to come back. I would like to thank the team of sports leaders from Stoke Damerel who volunteered their time to be our referees and scorers – you did a great job, thank you. Our next event is taking place on Wednesday 16th November 2022 – I look forward to seeing you all there.
Mrs Claire Cormack
PE Specialist Teacher
| | | |
| --- | --- | --- |
| Position | Team | Points |
| 01st | Coombe Dean 'A' | 14 |
| 02nd | Tor Bridge High | 12 |
| 03rd | Coombe Dean 'B' | 10 |
Plymouth School Sports Partnership