Table Tennis Triumph!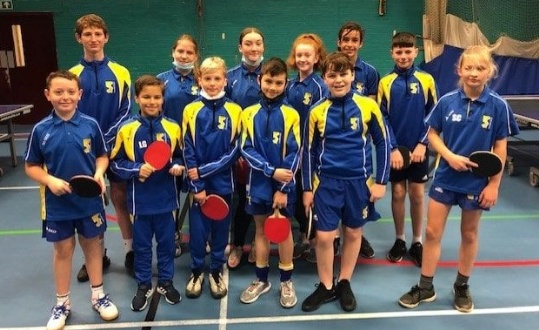 Team Coombe Dean should be immensely proud of themselves as 12 students represented the school at the Devon Table Tennis Championships.
In the U13 boys' category, four Year 7 students finished 3rd overall after narrowly losing to Torquay Grammar School in the semi-final – an incredible feat when they were at times playing against students in the year above them. The boys did really well to get that far with Jamie B, who currently stands in the top 3 players at his age group in Devon, leading by example.
There was more success in the U13 girls' category when our Year 8 girls, despite not completing a unit of Table Tennis as yet in lessons secured 2nd place overall - the girls even finished their day with a victory over Ivybridge's U16 team in a friendly. Special mention to Aimee N who won the majority of her games!
And finally, in the U16 boys' category, four of our Year 9s competed in a competition with students in two years above them so for them to finish the day 4th after a close game with St Boniface was a massive achievement – Awe P in particular playing a huge role in their team's success.
This was a fantastic opportunity for our young people to participate in competitive sport against an incredibly talented field, something they should look back on and feel incredibly proud of what they have achieved. We go again next year!
Massive Congratulations to Luke G, Jamie B, Fred P, Robin W, Roma SH, Freya H, Aimee N, Serafine C, Awe P, Freddie H, Alfie M and Clark D.
PE Department