U13 Girls' Football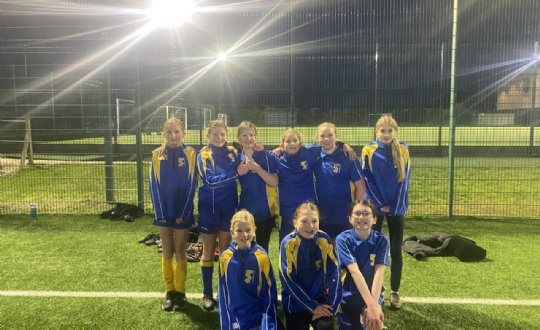 Well done to our Girls' Football Team
It was brilliant to be able to put a girls' football team forward for the U13's Girls Plymouth Central Venue. It was a cold afternoon but that was not stopping our team.
Our first game was against Plymouth High School for Girls. The team took a while to get warmed up but when they were we had two goals scored by Harriet and Bo, both impressive powerful shots to the back of the net. We had our goalkeeper Belle's quick reactions and great hands which kept us in the game but resulted in a 2-2 draw.
It came to our second game against Hele's. They were a strong team and despite our strikers Bo and Erin setting each other up and our defender Indigo and our goalkeepers Allana and Belle working hard to stop Hele's, it wasn't enough, and we lost 4-0.
It came to our final game of the night and the team's heads were down but after a team talk from Miss Brown and Mr Farmer the team were raring to go. Our goalkeeper Belle was stopping goals left, right and centre, resulting in saving at least 5 shots on target and not only were the defence strong, our attack were on form with Erin scoring both the goals making it a 2-0 victory.
Brilliant performance from the team on their first football fixture finishing with a win, draw and loss. Well done Grace H, Harriet C, Allana S, Belle C, Erin H, Bo W, Mia M, Mia W, Indigo B.
Miss Brown and Mr Farmer