Visits to Primary Schools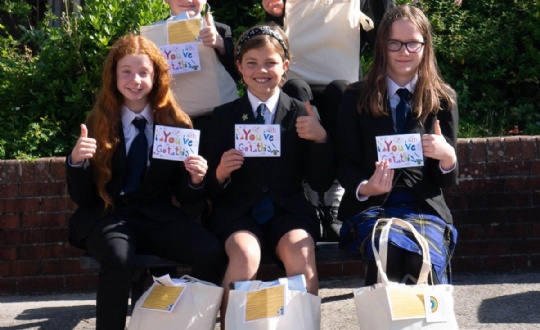 Mrs Cooper and the Transition Team have been busy making visits to primary schools to meet the Year 6s who will be joining the Coombe Dean community this September as Year 7s.
Each of the Year 6 pupils we are visiting are receiving a postcard, designed by current Year 7 Edith G. The postcards all have messages of welcome on them and reassurance from one of our Year 7 pupils who were given the opportunity to pass on some of their own experiences of joining Coombe Dean. It has been wonderful to see the Year 6s reading their postcards and having some of their worries put to rest.
Year 6 Pupils are also being given their Summer Challenge bags, provided by our friends at Plymouth Scrapstore. Pupils are being asked to do something creative with the contents of their bags, and send in photos to start the year by earning positive points. There has been a lot of excitement when these bags are handed out - with pupils keen to sneak a peek at the contents!
We are delighted by the response from pupils and their parents:
"Everyone going to Coombe Dean had been reassured how much they'd be supported in the move" - Phillip B, Year 6 Parent
"This is the first time I haven't felt worried about one of my children starting secondary school. She is so excited to come." - Rachel L, Year 6 Parent
If you have a child in Year 4 or 5 who is starting to think about which secondary school they would like to go to, be sure to secure a place on one of our upcoming tours by completing the quick online form below: https://www.coombedean.co.uk/welcome/open-events-2022
Mrs J Cooper
Year 6 Transition Lead and Head of Year 7