YEAR 13 STUDENTS DRESS FOR EXAMS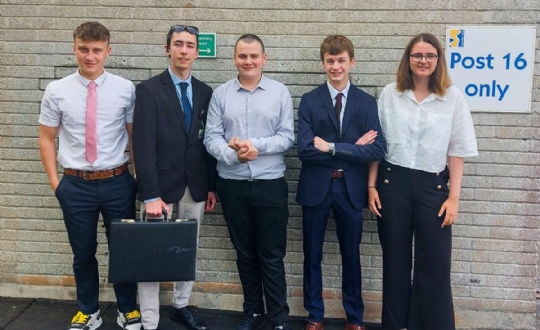 We are incredibly proud of our Year 13 students who come to the end of their exams on Friday. Throughout, they have behaved with maturity and positivity and impressed us all with the way they have looked after themselves and each other. Yesterday, some of the Maths cohort chose to mark the occasion of their last exam by arriving in their best formal attire: looking ready to take on the world!
They have been an amazing year group, starting their post 16 journey in the strangest way possible with no year 11 exams, no in-school transition lessons and only online contact from staff. They've really risen to the challenge and done so with a tenacity and good humour that sets a high bar for subsequent years to follow.
We look forward to seeing them all back in school for a final leavers assembly on Friday afternoon before they head off into the summer break to enjoy some well-earned relaxation in preparation to get stuck into their university and apprenticeship courses in September.
Mrs E Osborn
Assistant Headteacher - Post 16