Year 7 Netball Team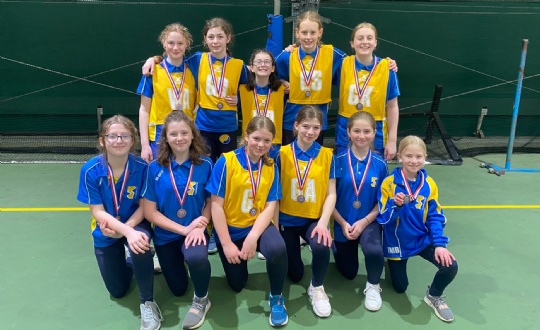 The Year 7 Netball team had their end of season tournament at Heles before the Easter break.
They successfully won all but one of their netball matches. We won against Plympton academy (4-1), DHSG Dolphins (1-0), Hele's harriers (4-0),Notre Dame lightning (5-0) PHSG pumas (5-0). The wins got us through to the next round where we played Eggbuckland (3-1) which resulted in us placing third place out of 14 and securing the bronze medal 🥉.
Amazing effort to all the girls, performing to such a high standard and using all the skills developed in training in the match. Well done to Mia N, Daria, Niamh, Merryn, Indigo for making some great interceptions. The attacking end for getting into space and having great flow down the court to the amazing shooters; Faith, Poppy, Lauren, Carys. Then at the end of the court down the defence end we had Maizy, Merryn and Lauren doing an amazing job and blocking the ball and defending the net to stop the opposition from shooting. And lastly Maizy, Niamh, Indigo, Carys and Harriet did a fantastic job at passing the ball to everyone in the team to get it further down the court to the attack players.
The year 7 netball team have been amazing, and I couldn't be any prouder! Bring on the next tournament! Let go Coombe Dean Year 7 Netball team! Well done to Carys K, Merryn K, Mia N, Faith H, Maizy C, Indigio B, Poppy L, Niamh G, Lauren S, Harriet C and Daria B