Business Studies
At Coombe Dean School we are committed to providing the highest of quality business lessons which enthuse children and inspire them to achieve. We want to give children the opportunity to explore the techniques businesses use to understand their market and develop products, investigate what makes a product viable and understand how businesses attract and retain customers.  Students are presented with a business challenge from which they create a researched and costed business proposal. To support the curriculum journey students are given a variety of opportunities and experiences to interact with real business and put theory into practice.  
 Students will carry out market research, present data, use idea generation tools, seek, and act on feedback, and cost their proposals. In their work on this unit, they will develop their self-assessment, critical thinking, creativity, numeracy, research, and evaluative skills.   
 Students also prepare for and pitch the business proposal that they developed in the previous unit. They develop a brand identity and investigate how best to promote their product and then plan, practice and finally deliver their pitch. Afterwards they review both their performance and their business proposal. This will help develop their analysis and self-evaluative skills as well as those relating to self-presentation. 
 Throughout the curriculum we aim to shine a light on local, national, and international markets as well as future job opportunities to inspire our students to aim for the top in the global world of business.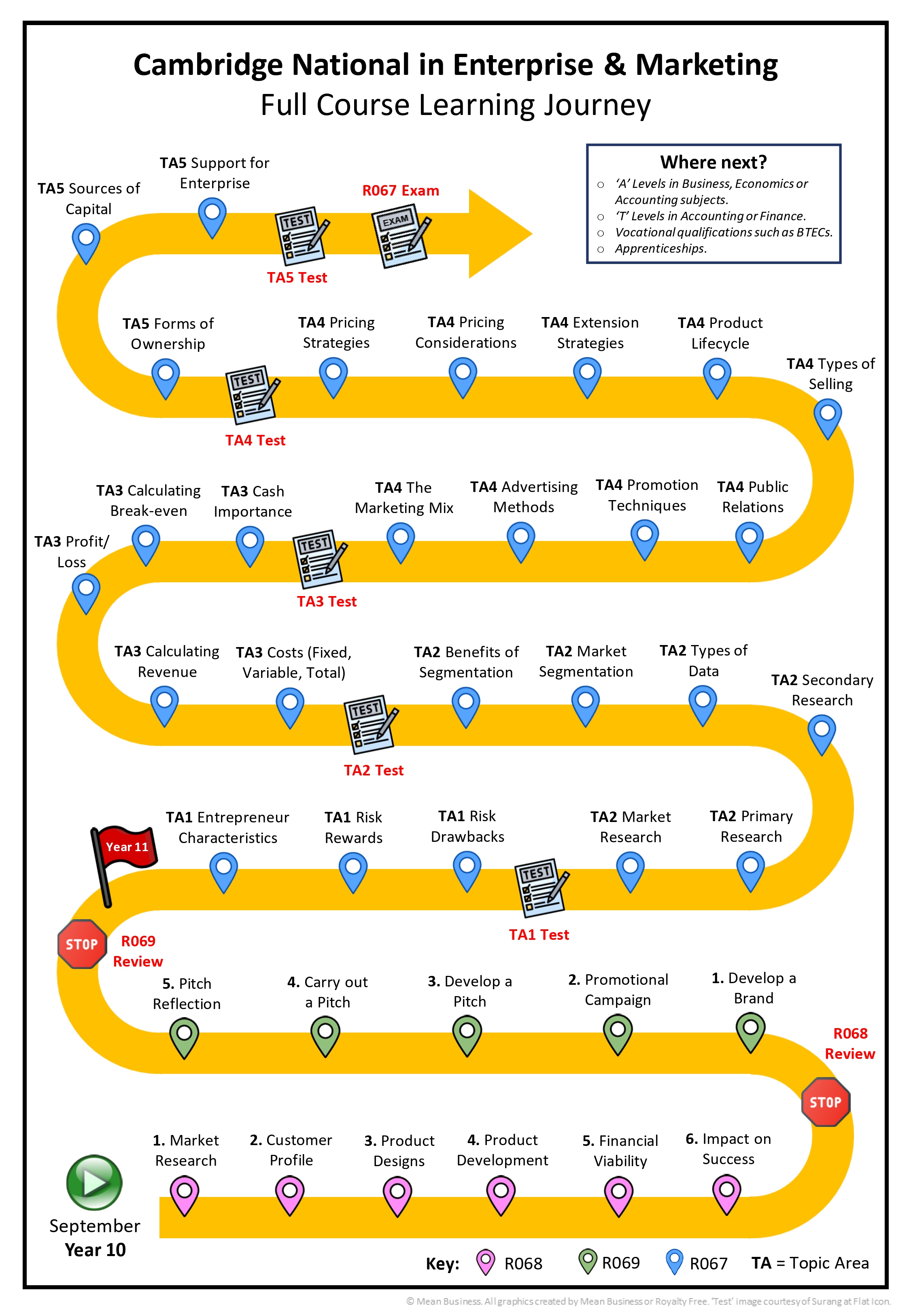 Key Stage 4 (Year 10-11)
Year/Term

Term 1

Term 2

Term 3

OCR Level 1/2 Enterprise and Marketing

Year 10

OCR Set Assignment – R068 Design a Business Proposal

OCR Set Assignment – R068 Design a Business Proposal

OCR Set Assignment – R067 Enterprise and Marketing Concepts

Year 11

OCR Set Assignment – R064 Enterprise and Marketing Concepts

OCR Set Assignment – R065 Design a Business Proposal

OCR Set Assignment – R066 Market and Pitch a Business Proposal
Key Stage 5 (Year 12-13)
OCR Level 3 – Business
Year 12

Unit 4 – Customers and Communication

OCR Set Assignment

Unit 1 – The Business Environment OCR External Exam

Unit 1 – The Business Environment OCR External Exam

Year 13

Unit 2– Working in Business

OCR External Exam

Unit 5 – Marketing and Market Research OCR Set Assignment

Unit 8 – An Introduction to Human Resources

OCR Set Assignment