PE
Sport
'If you want to do well, you need to be well'
At Coombe Dean we aspire to provide our students with a range of opportunities that ignite a passion for physical activity and embed healthy habits that will make a difference to their lifelong wellness and character.
The key principles that support this intent are:
Atmosphere: Developing positive relationships will allow us to create a culture whereby students are safe, active, having fun and engaged along with an understanding and acceptance that there are certain 'non-negotiables'.
Approach: Our lesson structure will remain consistent in both a practical and theoretical environment allowing for familiarity for students but also not impinging on teacher autonomy; this will be encouraged and developed (learning from the front).
Assessment: Learning will be assessed in three strands; attitudes, skills and knowledge. The attitudes will focus on character development, the skills on sporting ability and the knowledge on curriculum progress (KS2 prior learning, cross-curricular links and GCSE PE syllabus). These assessment foci will be planned across the year and may involve multiple or individual strands.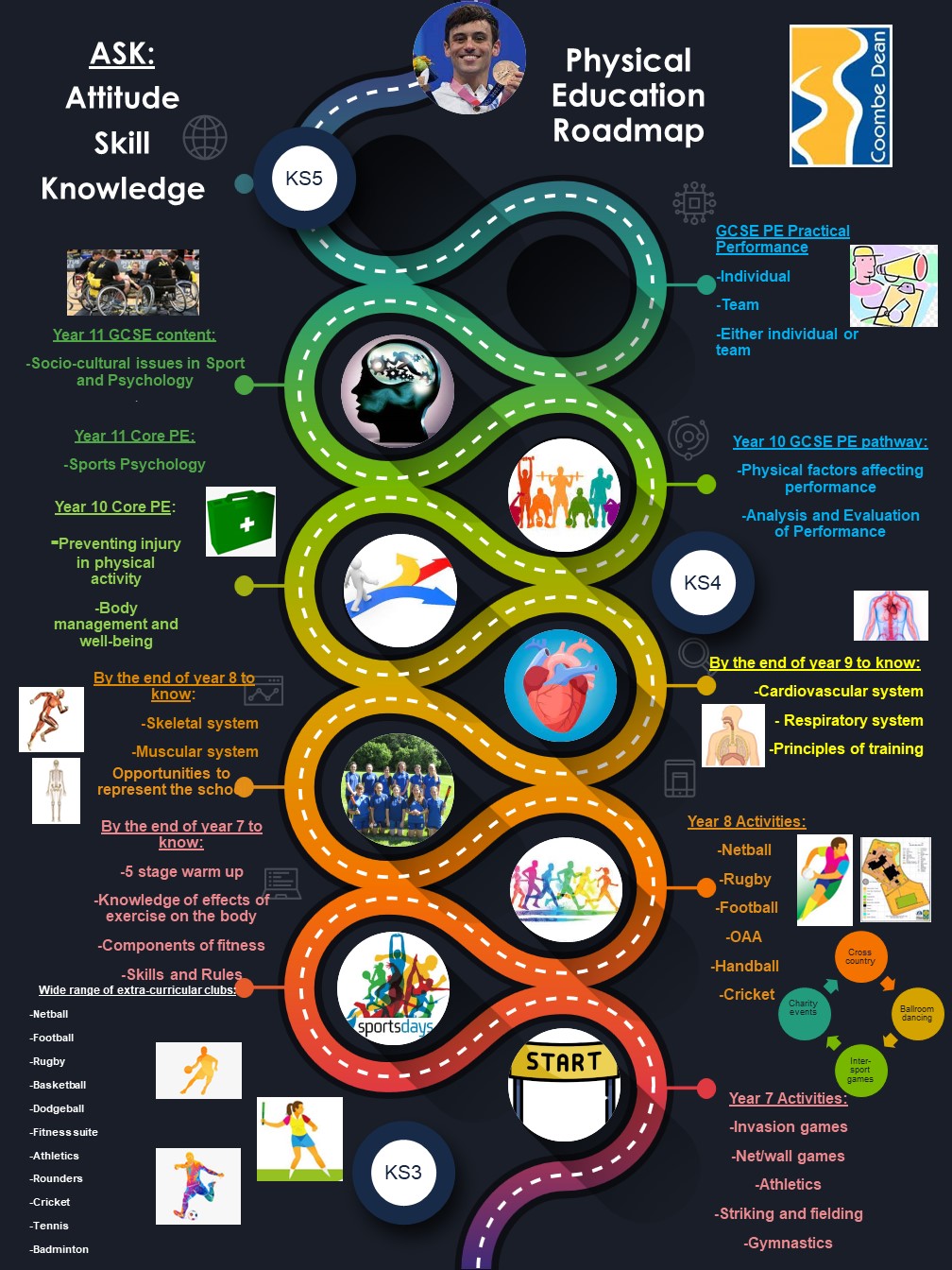 Key Stage 3 Sport
Curriculum Model:
Year 7

Year 8

Boys

Girls

Boys

Girls

Winter Term

Multi Skills Activities
Contact Rugby
Gymnastics
Orienteering

Multi Skills Activities
Netball
Hockey
Fitness

Rugby
Gymnastics
Orienteering
Cross Country

Netball
Fitness
Hockey
Cross Country

Spring Term

Basketball
Football
Fitness

Gymnastics
Tag Rugby
Orienteering

Basketball
Football
Fitness

Tag Rugby
Orienteering
Gymnastics

Summer Term

Cross Country
Cricket
Tennis
Athletics

Cross Country
Rounders
Tennis
Athletics

Cricket
Tennis
Athletics

Cross Country
Rounders
Tennis
Athletics
Key Stage 4
Subject statement: All students have two hours of PE a week during Year 9, 10 and 11. Students follow a structured program during year 9 but are given more personalised learning opportunities during year 10 and 11. During Year 10 students are also given the opportunity to work towards their Level 1 Sports Leaders Award.
Brief overview of topics covered:
Year 9

Year 10

Year 11

Boys

Girls

Winter Term

Rugby
Cross Country
Table Tennis
Orienteering

Netball
Cross Country
Football
Fitness

All students complete a selection from:
Rugby, Football, Hockey, Netball, Handball, Tag Rugby, Volleyball, Dodgeball, Basketball, Basketball, Boxing, Aerobics, Table Tennis, Badminton, Cricket, Rounders

Spring Term

Basketball
Football
Fitness

Orienteering
Table Tennis
Hockey

All Students are given the choice to follow a route:
Boys Games
Girls Games
Recreation

Summer Term

Cricket
Tennis
Athletics

Rounders
Tennis
Athletics
Key Stage 4 Examination PE
Key Stage 5 Sport
The BTEC in Sport provides an introduction to the sector for learners looking to build a career in sport. These areas include careers in exercise and fitness, coaching and leadership, sports development, the outdoors and PE teaching.
Students undertake a two-year course where they complete four units over the two years. They also have the opportunity to gain extra qualifications including the Level 2 Sport Leader Award and First Aid. The unit content is detailed below.
Exam board: Pearson Edexcel
https://qualifications.pearson.com/content/dam/pdf/BTEC-Nationals/Sport/20161/specification-and-sample-assessments/btec-l3-national-cert-in-sport-spec.pdf
Brief overview of topics covered:
Unit 1 – Anatomy and Physiology (Year 12)
Unit 2 – Fitness Training and Programming for Health, Sport and Well-being (Year 12)
Unit 3 – Professional Development in the Sports Industry (Year 13)
Unit 4 – Sports Leadership (Year 13)
Brief exam information: Assessment is through a combination of written exam, externally assessed coursework, internally assessed portfolios and practical work. There is a strong commitment to practical work throughout the course.
Links to useful websites:
https://qualifications.pearson.com/en/qualifications/btec-nationals/sport-2016.html