ICT & Media Studies
At Coombe Dean School we are committed to providing the highest of quality ICT lessons which enthuse children and inspire them to achieve. The Computing and ICT department provides opportunities for pupils to develop both their computing and ICT capability. The department believes that pupils should be given the necessary knowledge and understanding enabling them to be digitally literate at a level suitable for the future workplace and to become active participants in a digital world.
IMedia
We want to give children the opportunity to explore a wide range of products used in the Media industry, develop an understanding of the importance of designing and creating a product from specific Clients requirements and needs. Students will be presented with Scenarios from which, they design, create and evaluate their complete product design process.
Students will explore and develop a range of skills in Web Authoring, Image Editing and Comic Strip programs as well as consistently develop the importance of pre-planning documents such as storyboards, scripts and visualization diagrams. Students will work creatively and will continue to develop critical writing skills to prepare for the R081 Exam Unit.
Students will research and write detailed reports showing an understanding of the origins of different media and how they can be adapted to suit the needs of the audience as well as the purpose.
Computer Science
Computer Science at Coombe Dean School is designed to provide all students with the opportunity to explore the digital world of technology, inspiring them to learn the concepts of computer science, as well as providing them with an understanding of how the subject links to real world experiences and opportunities. It is our belief that this is a subject that should not be limited to a particular gender or stereotype, but inclusive to all students with a passion for computing and technology in general.
It is our aim to create learners that are enthusiastic and driven to study the components, principles and skills necessary to understand computer systems used in the real world. Students will also learn to analyse and create solutions to problems in computational terms through practical experience including decomposing, designing, writing and debugging programs, skills which are transferable to a variety of areas in life.
Over the duration of the course, students will learn a range of theory relating to digital technology including the components of a computer system (CPU, Memory, Storage, etc), how different systems communicate with each other (Networks, The Internet), as well as the mathematical skills relating to computer system such as binary and hexadecimal.
The course will provide students with the opportunity to undertake a range of practical work to apply their knowledge and skills in computational thinking. This will take place through algorithm and programming-based tasks in Python language which in addition to being fundamentally important knowledge in computer science, will also help prepare students with the skills and confidence for examination at the end of the course.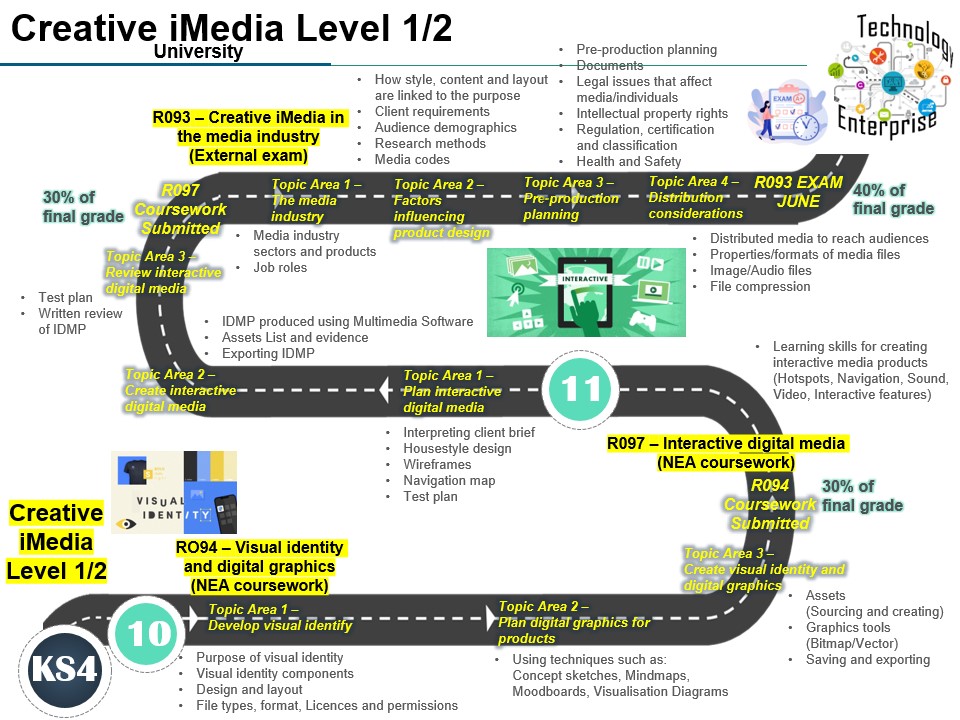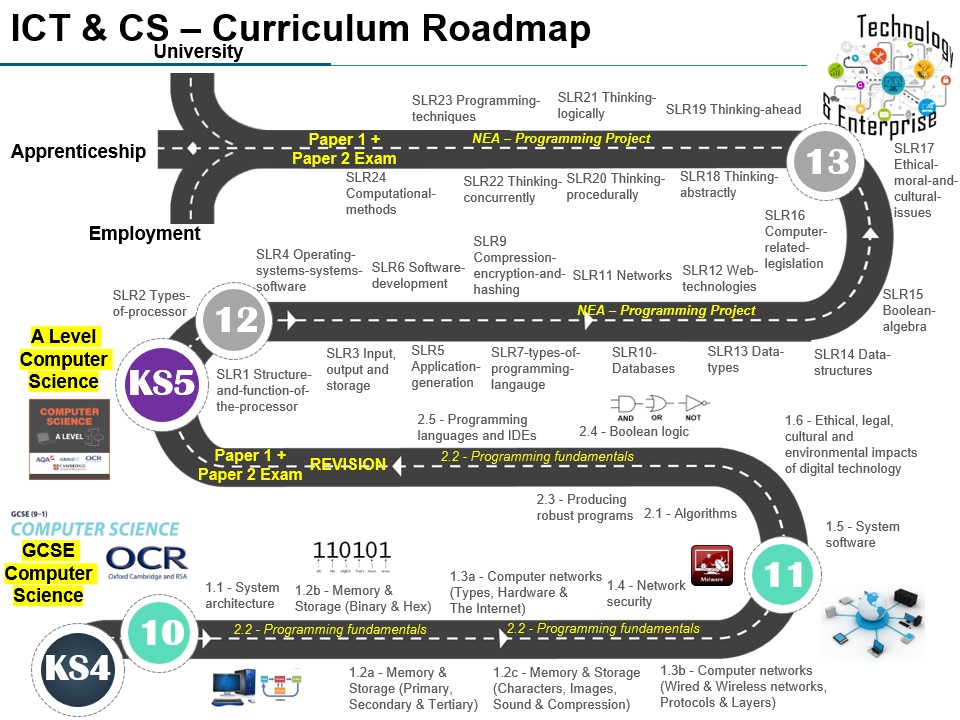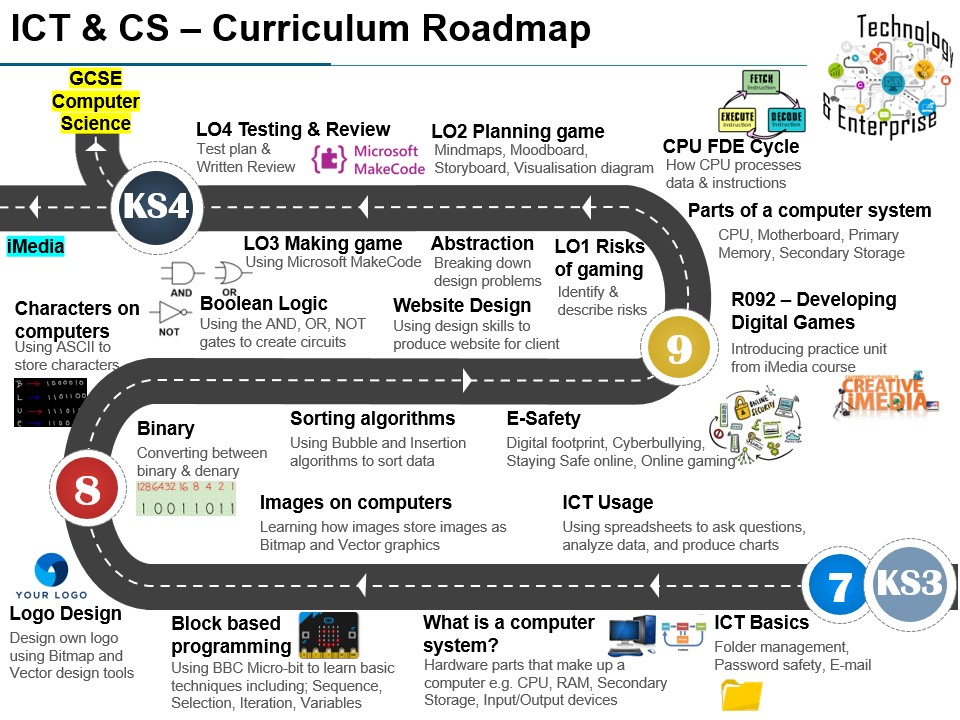 Key Stage 3
The new Computing curriculum requires that every child leaves school 'digitally literate' and our programme of study for Year 7 and 8 aims to achieve this. The programme of study in Year 7 and 8 is an important building block, equipping pupils with the digital and computing skills they'll need as they progress to Key Stage 4. All pupils will have access in their lessons to a PC with relevant software, plus access to shared resources such as; printers, headphones, microphones etc. The department uses both formative and summative assessment to ensure that pupils have the best opportunity to progress. Pupils can upload their work to our VLE (Learncoombedean.com) and feedback is provided to pupils through the VLE and verbally during lessons.
Pupils will complete several modules that use elements of Computing and ICT to ensure that they have a broad experience of both aspects. This programme is in four week blocks with three hourly lessons each time.
Using ICT
Computer Programming
Digital Graphics
Using Microbits
Computer Science Basics
Digital Sound
Using Python
Online Safety
Key Stage 4
The Computing and ICT department strives to equip pupils with the skills, knowledge and attitudes necessary to succeed as individuals and as responsible citizens in a world community facing an ever increasing pace of change. We want to allow pupils to have the opportunity to develop and apply their I.C.T. capability whilst they complete their coursework and provide them with lessons that have a level of challenge that is appropriate so avoiding the lack of motivation and disaffection that arises when work set is either undemanding or too difficult.
We offer two courses to pupils in Key Stage 4 and we believe that this offers pupils the opportunity to choose the right pathway for them which will enable them to continue to develop their capability and skills in ICT and/or Computing.
Level 2 Cambridge Nationals Certificate in Creative iMedia:
This qualification aims to equip pupils with a range of creative media skills Through the use of these skills, pupils will ultimately be creating fit-for-purpose creative media products.
This qualification will also challenge all pupils by introducing them to demanding material and techniques; encouraging independence and creativity.The 'hands on' approach that will be required for both teaching and learning has strong relevance to the way young people use the technology required in creative media. The qualification design, including the range of units available, will allow pupils the freedom to explore the areas of creative media that interest them as well as providing good opportunities to enhance their learning in a range of curriculum areas.Pupils complete four units of work and two of these are mandatory. The mandatory units are R081: Pre-Production Skills is a written exam and R082: Creating digital graphics which is an internally controlled assessment. The externally assessed R081 is worth 25% of the qualification. The two optional units will be R085: Creating a multi-page website and R084: Story-telling with a comic strip.Learners who successfully achieve the Creative iMedia Certificate at Level 2 will be awarded grades from Pass to Distinction*, which are equivalent in value to GCSE grades 9 -4.
GCSE in Computer Science:
The qualification will build on the knowledge, understanding and skills established through the Computer Science elements of the Key Stage 3 programme of study. The content has been designed not only to allow for a solid basis of understanding but to engage learners and get them thinking about real world application.The new specification will enable learners to develop computational thinking skills built on a sound base of conceptual learning and understanding.This GCSE qualification will be awarded with GCSE grades from 9 – 1. 100% of the qualification is exam based.
https://www.ocr.org.uk/Images/558027-specification-gcse-computer-science-j277.pdf
Links to useful websites:
Key Stage 5
In Key Stage 5 the Computing and ICT department offer A level Computing. IT and Digital Media are also available via our consortium partners.
For more information about the A level see the Post 16 Course Page